Reading Time:
2
minutes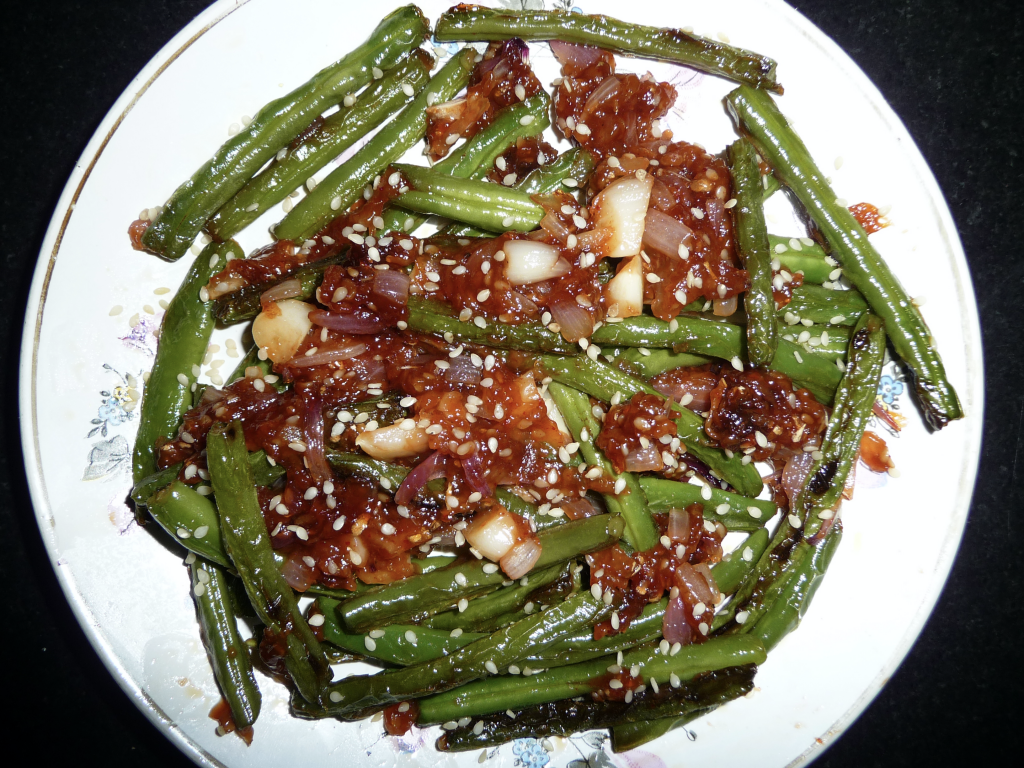 Name:
Sichuan/Schezwan Baked Green Beans recipe (2 Servings) (Cooking time: 25 Minutes)
Country of Origin:
Ingredients:
1 pound fresh green beans (chopped in 2-3 inches long each).
1 tablespoon of Vegetable oil.
1 tablespoon of Sesame oil.
1 thumb-sized ginger (finely grated).
1 large-sized Scallion/Onion (chopped in semi-circular shapes).    
1 tablespoon of Cornstarch/All-Purpose Flour.
1 tablespoon of Chili-Garlic Sauce.
1 tablespoon of Tomato Ketchup.
1 tablespoon of Oyster Sauce.
Table salt (to taste).
1 teaspoon of Sesame seeds (for seasoning). 
Method:
Take a deep bowl of water and bring it to a boil. (Note: The amount of water you take should thrice as much as that of the Green Beans).
When the water reaches its boiling point, pour a tablespoon of vegetable oil (or any cooking oil of your choice) and stir till the mixture becomes a vortex.
Once the vortex is created, pour in the chopped green beans and keep stirring for 2-3 minutes till they become tender (you may want to check the this by pricking a fork inside 1 or 2 beans and see if the fork is piercing and then coming out easily). drain all the hot water from the beans by using a large strainer and immediately wash them with cold water and set aside for cooling.
Now, Take a separate pan and pour 1 tablespoon of sesame oil and til it oozes, in the meantime, prepare the sauce by adding 3 tablespoons of water to 1 tablespoon of cornstarch along with yet another tablespoon of chili-garlic sauce along with a tablespoon of oyster sauce. Mix till it becomes a paste.
When the oil starts to ooze, add the ginger, garlic and scallions/onion pieces to the pan and saute till there is an aromatic smell and they become translucent.
Next, add the sauce and stir for a couple of minutes.
When the entire mixture starts getting a little dry, add a significant amount of water (based on your servings, since this is 2 servings, I suggest adding a teacup full of water). Add salt (to taste) and keep sauteing for a couple of minutes on medium heat yet again.
Lastly, when the gravy starts to thicken serve with a plate of piping-hot rice by topping it up with some sesame seeds (sesame seeds are my favorite as they look good. You can experiment with a different spice i.e., Ground Black Pepper or Himalayan Pink/Rock Salt whichever is available in your local market).
Author: Saptarishi Basu – saptarishi.basu777 at gmail.com