Reading Time:
2
minutes
An outdoor sport, other than any of the ball games, which children especially boys–love is kite-flying. Though its origin is unknown, it is generally believed that Huen Tsang (not the Chinese traveller who visitedIndia in the 7th century), flew a kite to scare away the army of the Han dynasty! This happened in 200 B.C. Between 100 B.C. and A.D. 500, kites were used for sending signals. Around A.D. 930, there was a mention of Shi (paper) roshi (bird) in Japanese literature.
In India, the word patang (originating from Sanskrit pataka or flag) appears in a work called "Madhumati" writtenby Manzan in 1542. In the Kite Museum in Ahmedabad, Gujarat, the invention of kite is attributed to man's desire to fly.
The kite has a great significance to the people of Gujarat where the Kite Festival is a major annual event in January, coming off on Makar(a) Sankranti day January 14. Kites are flown from open grounds or terraces or rooftops as a ritual right from dawn to sunsetand beyond. At night illuminated box-kites are flown adding splendor to the dark sky.
The KiteFestival is held all over Gujarat. Word seems to have spread about the Kite Festival which attracted participants from China, Japan and other countries to Gujarat. The first International Kite Festival was held in Ahmedabad in 1989.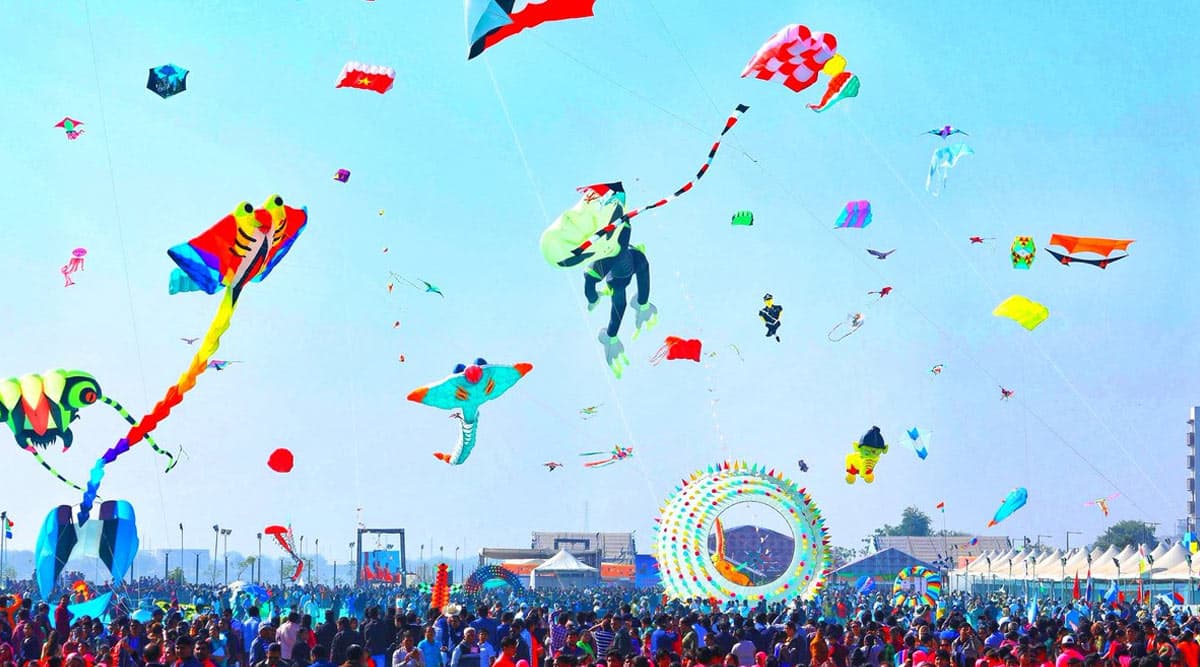 For those religious-minded, the festival is an occasion of thanksgiving. It is believed that the gods awaken on that day after a 6-month long slumber, and the gates of heaven are thrown open.Naturally, it is a time for merry-making. Makar Sankranti is an important day for people in all the states south of the Vindhyas. InKerala, devotees flock to the Ayyappa temple at Sabarimala to watch the phenomenon known as Makara Jyoti. In Tamilnadu, it is the time for Pongal which is a four day festival.
In Andhra Pradesh farmers throw a feast for the farm hands. It is called Pedda Panduga. In Maharashtra, married women exchange haldi-kumkum made of turmeric powder. In Karnataka, bulls and cows are decorated and taken in procession