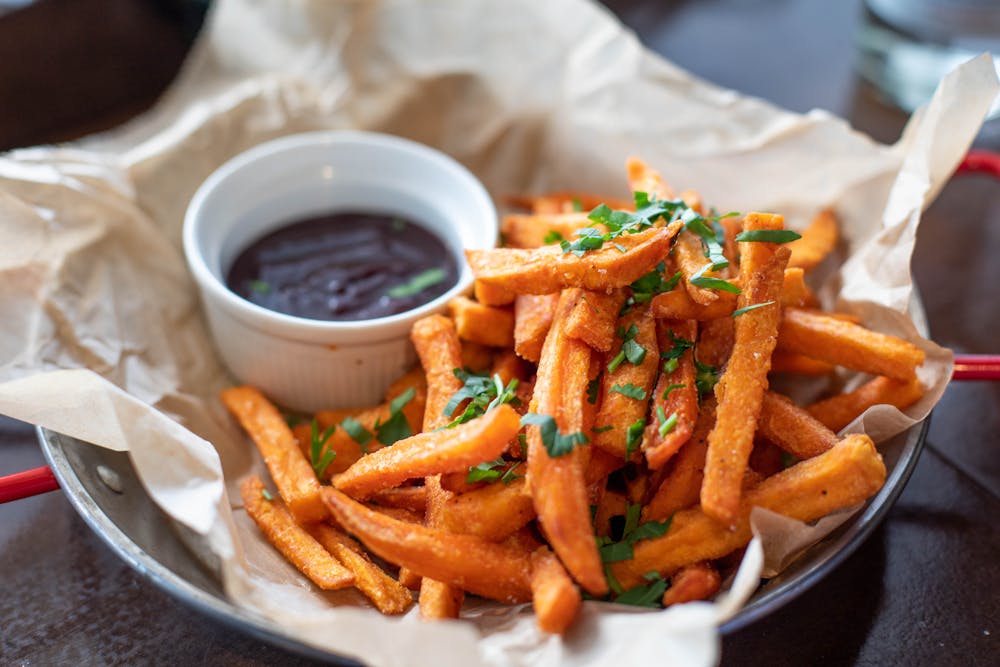 Reading Time:
2
minutes
Five Ways to Make Sweet Potato into Meal
We are always in the search of foods that support our immune systems, which nourish our bodies, and even don't spike our blood. If you are looking for food that contains starch, then look at sweet potato recipes. It contains carbohydrates and it is also loaded with vitamin A, B, and C, copper, potassium, and fibers.
I like the different recipes of sweet potatoes because all its recipes have different tastes from others and contain nutrients. The purple potatoes are rich in antioxidants and vitamin C; whereas sweet potatoes are rich in beta-carotene.
Five easy ways to use sweet potato in a meal are given below
Sweet Potato Chips
Sweet Potatoes are horizontally cut into slices having approximately one and half-inch thickness. Toss the sweet potato slice into olive oil until it gets fully coated. Add some seasoning and toss to coat. Try to arrange the slices into a baking sheet without any overlapping. Now serve it using sour cream and a grass dip made up of sauteed onions, spinach, and yogurt and adding some salt into it.
Loaded Baked Sweet Potatoes
Sweet potatoes are baked for 40 minutes at 400-degree Fahrenheit. Until the sweet potato gets baked, put half onion and saute into a span, until the onion gets caramelized. Add a quarter cup of black beans and mix it all.
After baking the sweet potato, cut it in half lengthwise and "stuff" with the black beans and onion mixture. Finish with a dollop of grass-fed yogurt, paprika, and salt.
Mashed Purple Sweet Potato
The main ingredients of this recipe are purple potato, ghee, and grass-fed greek yogurt. Make some pores into it and bake it for about an hour at 400-degree Fahrenheit. Slice it open and scrape the contents into a bowl once it gets cooled. Now add a teaspoon of ghee and mash it all together. Serve with any grass-fed meat or pasture-raised chicken and greens, topped with two teaspoon plains grass-fed yogurt.
Sweet Potatoes Fries with Amla Aioli
This seems to be a great winter snack. In this recipe, sweet potato slices are dipped into a delicious mixture and crispy fried. It is served with a special dip made from basil, shallots, amla, and jalapenos.
Hassle Back Sweet Potatoes
A great dessert for a get-together with family and friends. Hassel-back sweet potatoes are easy to make and require few ingredients that can be available at home. Make this sweet and salty snack for a sunny Sunday brunch. Its main ingredients are butter, garlic, oil, thyme, and a quarter spoon of peppers and salts. All these ingredients are mixed in a small bowl. Sweet potatoes are rubbed all around the mixture, getting it between the slice. Place it on a baking sheet and roast until it gets crisp.
Summary: Here we have seen five ways to sweet potatoes into a meal. All these recipes can be made at home easily so that you can taste different tastes at a time. So don't think any more just go and prepare a dish for yourself and your family. Hope you have liked these recipes. Thanks!